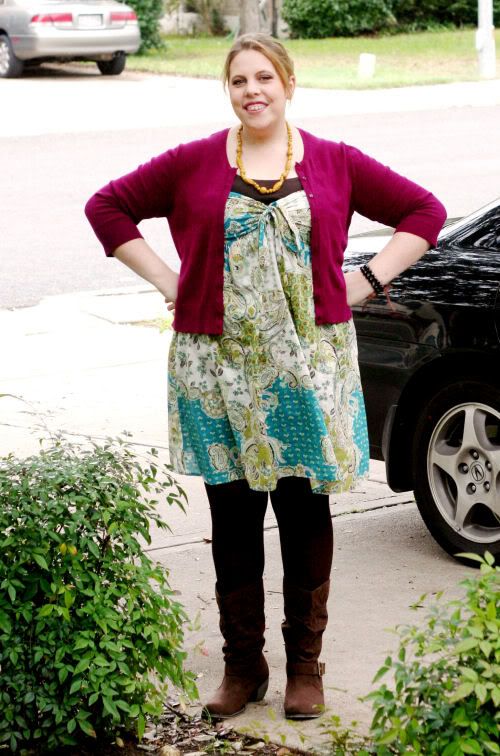 I wore this 2 days after Miss.L's birthday to Church! :)
I LOVE this dress and had a blast wearing my new boots!! Check out the story below on them!!! LOL
What I am wearing:
Brown tank: Target, $3.74
Dress: Target, $6.47
Leggings: Walmart, $6.00
Cardi: Goodwill, $4.99
Boots: Torrid, $62.00
Necklace: Hannah D's, like $2.00 or something crazy cheap!
Bracelets: same as necklace!
Ok, so the story on the boots! I bought a pair of jeans a while back from Torrid, desperate for some jeans that would fit my body and stay fitted to my body! I bought a pair for $59.00, took them home and they were SO freaking uncomfortable, I can't even tell you. So I took them back, but I had already removed the tags, so they gave me store credit.
Well, I could never find anything I wanted to wear there, so I bought a pair of ankle boots. Took them home, tried them on in my living room for about 10 minutes and my feet were throbbing! I was starting to think I had REALLY bad luck when it came to buying stuff at Torrid! So I went back and saw they had these awesome boots and I was eyeing a pair of cowboy boots online, so I got these and I LOVE THEM!! They fit well and look awesome! So YAY! :) Success at Torrid, and I only had to pay like $3.00 for them after my store credit! hehe